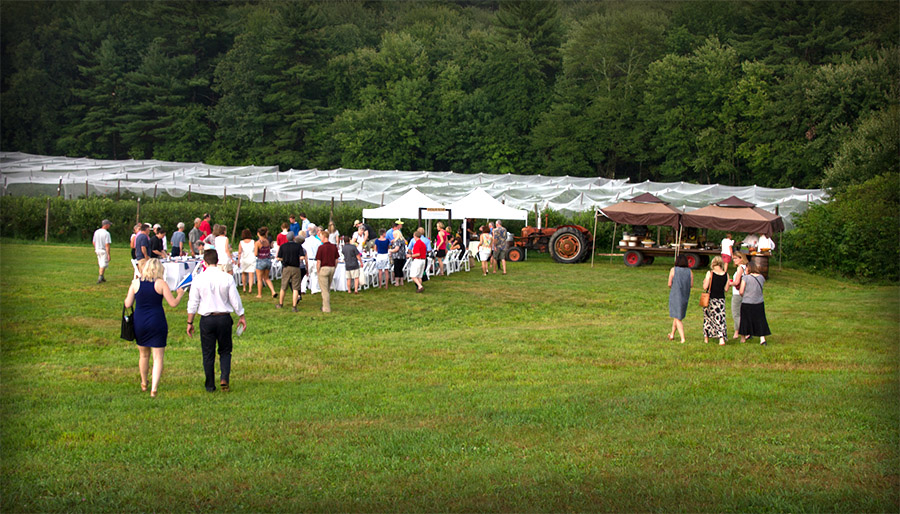 Sold Out
We have sold out of tickets for this year's dinner.
If you missed out on ticket sales for this year's dinner, please join our waitlist.  We will be sure to let you know if seats become available for the 17th.
The farm to table dinner has returned!  Join us once more for a gourmet meal served under the open sky.
Skillfully prepared by Peppers Artful Events and served right in the fields here on our farm, enjoy hors d'oeuvres, a variety of meal options, as well as dessert, featuring the bounty of the New England summer. 
Food will be sourced fresh from our farm, as well as other local farms.  The menu has now been finalized and includes a wide range of options,  catering to omnivores and vegetarians alike. It can be found further down this page.
Event Info:
Dates:
Wednesday, August 9th, 2023
Thursday, August 17th, 2023
Time: 5pm – 9pm
Location: 228 Pleasant St., Berlin, MA (Cordelia's Farm)
Price: $85/person
Rain Date: Presently we have Wednesday, August 16th set as a possible rain date for either night.  We are updating our plans in the event of rain given the addition of a second night.  More information will be posted shortly.
Highlights:
Gourmet meal prepared by Peppers Artful Events
Locally sourced produce
Live music by local musicians
Tickets
Tickets are available online or in person.  To purchase your tickets online, select the option below for the night you would like to attend.  Simply stop by the register in the Cordelia's Farm Store for in person ticket sales.
Thursday, August 17th, 2023
We are currently sold out for the 17th.  If you join our online waitlist, however, we will be sure to reach out if space becomes available.
Please contact us at Events@CordeliasFarm.com if you have any questions about this year's dinner.
We look forward to seeing you there!
Menu:
Passed App
Tomato Blt crostini
Street corn flatbread, cauliflower crust, chili lime aioli
Deviled farm egg, pimento cheese, shaved scallions
Strawberry bruschetta, sweet onion crostini
Fried goat cheese, pickled blueberry, lavender honey
Stationary Display
Sausage and pickle display
Assortment of pickled farm vegetables, sausages, and spreads
Plated first course
Sweet Pea Flan
Pickled shallots, pea and spinach velouté, pea tendrils, edible flowers
Bread service
Apple cheddar scone, peach mostarda
Buffet Dinner
Southern style chicken fried steak, cream sausage gravy
Amish onion cake
Shaved Brussel sprouts, smoked tomato jam, pork belly croutons
Grilled and chilled marinated vegetables
Garden vegetable frittata
Ratatouille
Farmhouse chicken
Corn, tomato and salmon salad
Fried green tomatoes, buttermilk dressing, chive
Bitter greens salad
Dessert
Sweet corn ice cream, chive biscuit, bourbon caramel, candied bacon, popcorn
Selection of mini sweets