Thanksgiving is celebrated with much more attention in the centennial year of 1876. Cordelia, now in her fifty-ninth year, notes weeklong preparations in which her son Arthur figures prominently. Many more family members tha­­n is customary gather together for the holiday. And things are put (back) in place in the days that follow.
Cordelia seeds raisins, definitely a tedious process that may have been aided by a period kitchen gadget that separated seeds from rasins. Seedless raisins are beginning to be produced and marketed but Cordelia is still doing it by hand with grapes grown at the farm, ingredients for her Thanksgiving cake and raisin pies.
Cranberries and squash have been in season and cultivated on the farm, available for Cordelia's holiday baking into a cranberry-squash pie.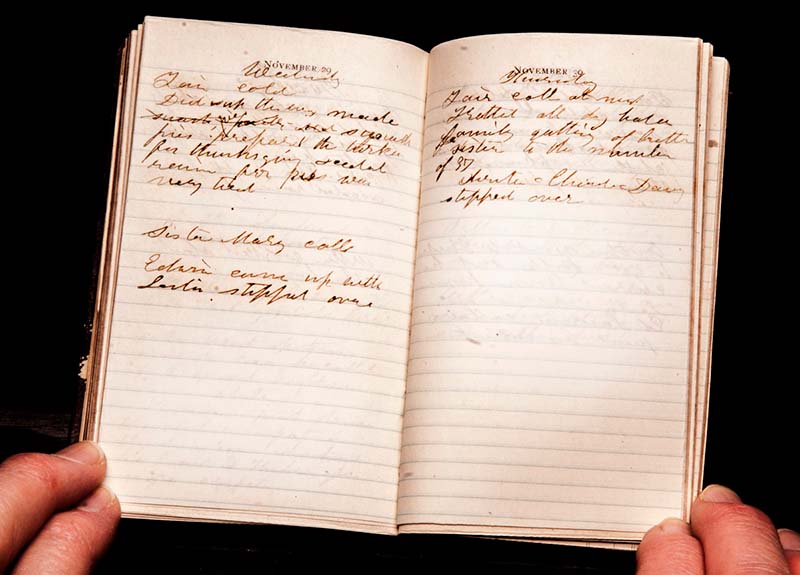 November 20

    
… Arthur whitewashed Grandma's room & the kitchen
November 21-23
… seeded raisins … made a Thanksgiving cake … seeded raisins for pies
Arthur & Carrie papered Grandma's room  
Arthur whitewashed the dining room & the bedroom
Arthur made little frames for pictures
November 24-25
… Arthur gathered up the garden and finished up the lattice at the back door
November 27

 
… baked rolls for Thanksgiving
Arthur put down the oilcloth carpet in the dining room. He went to Hudson for more carpeting.
Arthur didn't have the luxury of turning on the ignition to make a quick trip to
Hudson. It's likely he hitched up the horse and buggy to bring home the extra carpeting.                    
November 28

     
… baked squash and cranberry pies
seeded raisins for pies
chopped stuffing for turkey
Arthur worked about the house.
November 29

     
… prepared the turkey for Thanksgiving … seeded raisins for pies … was very tired
Sister Mary called, Edwin came up with Leslie … stopped over (stayed overnight)
Thanksgiving Day
November 30

    
… Trotted all day had a family gathering of brothers & sisters to the number of 37 …
Christie, Charley & Daisy* stopped over
December 1-2

    
… scoured … washed tablecloths & napkins … put things in place.